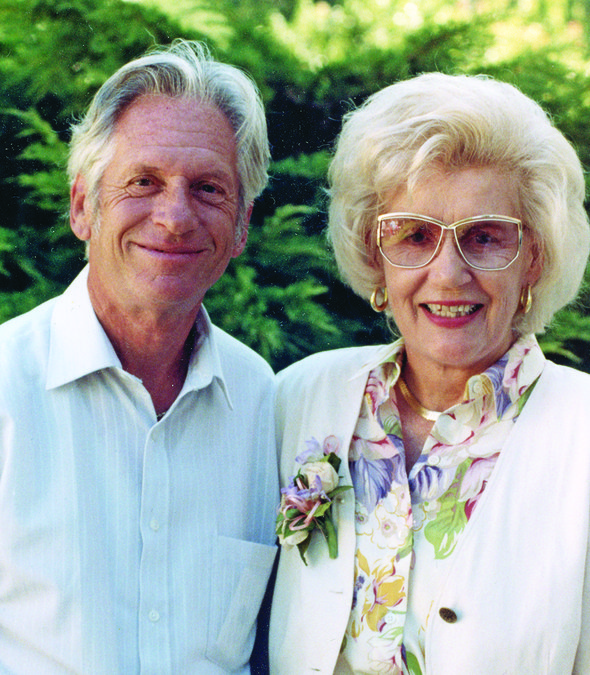 Anthony (Tony) Mistlin, 95, of Modesto, CA passed away peacefully in Shoreline, WA on January 18, 2021 at the home of his daughter, Gala, while visiting family for the holidays. He was born in London, England on April 22, 1925 to David and Fanny Rose (Mitzi) Mistlin and was the youngest of four children. His beloved wife of 64 years, Joan, passed away in 2014.
   Tony ran a successful car dealership in Modesto for almost 60 years, Mistlin Honda. In addition to being a successful businessman, he and his wife were very generous philanthropists in the Modesto and Ripon area. Tony and Joan's desire to give back to the community resulted in the financing and developing of the 122 acre Mistlin Sports Park, a magnificent expanse of parks, baseball, softball and soccer fields, an interactive fountain, esplanade and amphitheater, and indoor volleyball arena. Other local contributions include the Ripon waterfall fountain at the entrance to Ripon, the statue of Chief Estanislau at the Stanislaus County Courthouse in Modesto, Mistlin Gallery, and the new Inspiration Garden/Fountains and Putting Green at Dale Commons, his beloved residence for the last 3+ years.
Tony Mistlin never forgot being bullied by peers and teachers in elementary school and being told that he would never make anything of himself. It was a special teacher who encouraged Tony and totally changed his view of himself. In 1940, at the age of 15, Tony was sent to America by himself to escape the bombing in England which totally changed the trajectory of his life.
Since Tony was not a US citizen at the time, and after just one semester at NYU, he joined the Royal Canadian Air Force and served as a navigator from 1943 to 1945. After the war he traveled to San Francisco (by way of Memphis, Dallas, Boston, Miami and the Virgin Islands) where he met his wife, Joan in 1948. He says she chased him for a year until he caught her. They married on September 3, 1949 in Reno, Nevada.
Tony had many careers after the war, including stock clerk, waiter, assistant manager at MGM, film booker for RKO, Hudson salesman, Chevrolet salesman and finally car dealer. In 1964 he heard of a Buick dealership for sale in Modesto, took a risk and purchased the dealership with the help of Joan's inheritance and a large bank loan. He switched over to Hondas in the early 70's because of their reliability and popularity, and eventually moved to the current location on McHenry Ave. He always talked about his cherished employees at Mistlin Honda as "his family" and appreciated all of their hard work.  
   Tony and Joan loved to travel the world, and took many cruises to faraway places. When he lost his traveling companion, he started traveling with family. Every trip energized him in his later years and he looked forward to each new adventure. His one bucket list trip, Easter Island, was finally realized in 2018 and exceeded his expectations. His last trip was in the fall of 2019 where he traveled back to his roots and spent three weeks touring the UK, visiting dear nieces and bringing back to life many early memories.
   Tony's perseverance in all endeavors represents the best example of what hard work, persistence, positive attitude, sense of humor, intelligence and generosity of spirit can accomplish. Tony Mistlin, a calm well-spoken man who lived a good and fruitful life will be missed by the many whom he influenced and mentored. He kept his sense of humor until the end, and was thankful for every day he woke up. Tony loved to relate the many stories of his life to anyone willing to listen!
   Tony is survived by his three children, Gala Lindvall (Brian) of Seattle, Gary Mistlin of Reno, Melody Mistlin (Steve Rude) of Seattle, four grandchildren, Eric Lindvall (Irene), Anna Swynford (James), Amy Beth Nolte (Peter), Kyle Mistlin-Rude (Bettina Hsing) and three great-grandchildren (Alder, Elliot, Ridley Grace Swynford).
   In honor of Tony, you may make donations to the newly established Tony Mistlin Youth Fund, which will enable disadvantaged youth to participate in sports and recreational programs at the Mistlin Sports Park in Ripon. Donations may be sent to the Tony Mistlin Youth Fund, mailed to Stanislaus Community Foundation, 100 Sycamore Ave., Suite 200, Modesto, CA 95354 or you may donate online at Stanislaus Community Foundation (Tony Mistlin Youth Fund). An outdoor celebration of life ceremony will be announced in the future.
Ripon
Manteca (Calif.) Bulletin
Friday, January 22, 2021