Chris Johnson, 51, is looking forward to the next challenge in his life.
The challenge, for now, is figuring out what exactly that is going to be.
The longtime football coach has decided to step away from the game for a second time in his career after resigning as head coach at Sierra High where he is a health teacher. Although he has not ruled out the possibility of returning to coaching in the future, Johnson is excited about the opportunity to pursue interests outside of the sport. He has coached at the high school level for a total of 22 years.
"It's time for a break and see what's next," Johnson said. "Usually, when people step away it's to spend more time with the family, but my dynamic is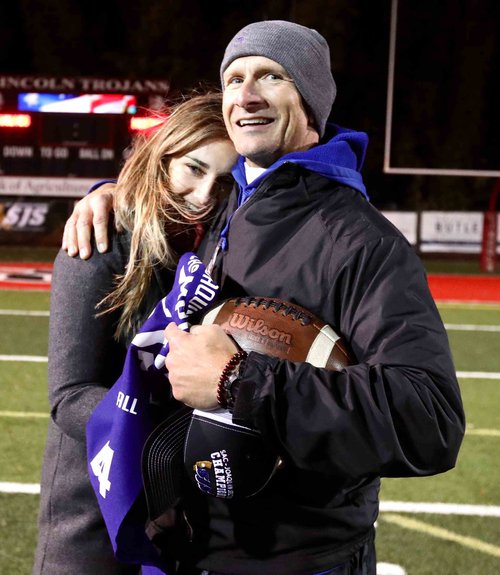 different because my kids are adults and out of the house. It's kind of a new chapter for me, in that sense, and I can explore things. I have time to maybe travel a little bit and the freedom to do a lot of the things I like to do."
Sierra Athletic Director Andrew Lee announced the resignation in a press release on Wednesday and said the search for a replacement is underway.
"Coach Johnson was and is an incredible man of character," Lee stated. "Every game, every practice, every repetition, the message has always been the same: develop young men with life skills and character to help them reach their goals.
"The impact he's had on the students, the staff, and the climate and culture has been invaluable.  I am thankful to be a part of his tenure, and I wish him the best on his next endeavors." 
A 1988 graduate of Ripon High, Johnson served as head coach at his alma mater for 12 years before stepping down after the 2015 season. Johnson went 77-53 and led the Indians to two Trans-Valley League titles and five Sac-Joaquin Section postseason appearances.
Johnson took over at Sierra in 2017, two seasons after his predecessor, Jeff Harbison, guided the Timberwolves to their first SJS and California Interscholastic Federation state championships. In five seasons, Johnson led the Timberwolves to a 20-31 record, two postseason appearances and the program's second SJS Division IV title in 2019.
Johnson isn't just proud of what he has been able to accomplish, but more so with whom.
"When it's all said and done, it's like I tell the players, the joys of winning and the pain of losing fades away and doesn't affect your life 10 years down the road," Johnson said. "What lasts forever are the relationships, and that's what makes it awesome. I'll always cherish those relationships."
Johnson admits the last two years as Sierra coach were rough, but it goes beyond the 2-14 record. Like many other programs, the Timberwolves tried their best in dealing with the COVID-19 pandemic and the protocols that came with it. The team had players in quarantine almost weekly, leading to nine different starting offensive lines in 10 games this past fall. The entire varsity and junior varsity squads, in fact, started the season in quarantine while their rivals got to begin official practices.
"It took a lot out of me, as it did to a lot of other coaches," Johnson said. The pandemic added "another layer of stress" to an already-demanding job. He also brought up the transient nature of modern student-athletes who leave their communities seeking more opportunities and exposure at other schools.
"I've been doing this a long time and the game has change a little bit," he said. "I've been involved with football almost 40 years in one shape or form, and I've always felt like football is fun and I have always been able to keep that perspective — it's still a game."
Ultimately, Johnson made the decision to step down after Thanksgiving after questioning his drive to give it another shot.
"I didn't really know it was going to be the end until two weeks ago, and honestly it was something I really wrestled with," Johnson said. "That's when it came to me that if I am having that conversation, it's time to go. Like I tell the kids, you gotta be all in or don't do it at all. If I have any questions of how I feel, there's my answer
"If I feel any apprehension, it's not fair to the people I work with, it's not fair to the coaches and the kids and it's not fair to me. Sierra needs a shot in the arm, someone with youthful enthusiasm and energy. I'm not a spring chicken anymore. Let's get this thing going in a different direction."
As for the direction he's going, that remains to be seen. He called it a "privilege" to serve as Sierra's head football coach and is grateful to have been accepted into a new community after spending much of his life and career at Ripon High.
"Life has a way of putting you where you're supposed to be at that moment," Johnson said. "I never thought I would end up at Sierra and I did. We'll see what happens next."