Ripon High's girls soccer team has been awarded the top seed and a first-round bye for the Sac-Joaquin Section Division IV playoffs.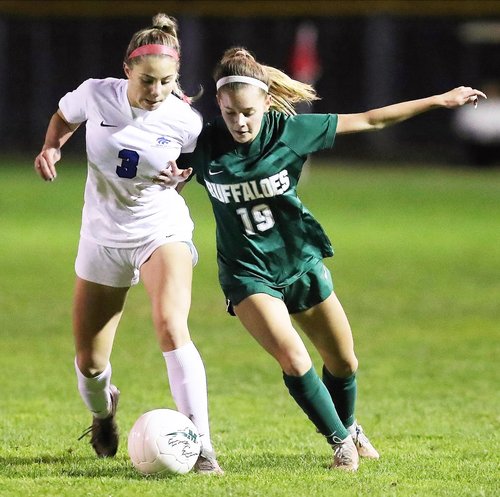 Meanwhile, East Union's boys and the Manteca girls have first-round home matches but may have to hit the road the rest of the way as they look to repeat as Section champs.
Brackets were released on Tuesday. Eighty-seven boys and 87 girls teams were broken up into seven enrollment-based brackets, and MaxPreps rankings helped determine seedings. Boys games begin Thursday, and the girls kick off on Friday. Default start time is 6 p.m., unless opposing schools agree to an earlier kickoff at 3.
The Valley Oak League co-champion Manteca and Sierra girls are seeded fifth and sixth, respectively, in the competitive Division III bracket. Vista del Lago (12-2-2) of Folsom is the No. 1 seed with Sacramento's Christian Brothers (13-2-4) at No. 2. Vista is ranked third overall in the Section, according to MaxPreps.
Sierra (15-4-2) plays host to No. 12 Vanden (6-4-4) as it begins its quest for a sixth Section championship banner. Manteca (19-3-1), which knocked off Christian Brothers for its second SJS crown two years ago, welcomes No. 11 Woodland (9-5-1).
East Union (9-7-3) joins Ripon in Division IV after placing fourth in the VOL. The seventh-seeded Lancers take on No. 10 Galt (6-8-2). As for Trans-Valley League champion Ripon (20-3), it awaits the winner of the 8-9 matchup between West Park (7-7-1) and Livingston (14-5) in the quarterfinal round next Wednesday, Feb. 16.
Two-tie Section titlist Ripon Christian (18-4-3) is the No. 2 seed in Division VI. The Knights are the reigning Southern Athletic League champion. They take on No. 7 Rio Vista (10-9-1). Ben Holt College Prep Academy (18-3-1) of Stockton tops the field.
On the boys side, VOL champion East Union (13-5-7) is No. 7 in Division IV and drew Mother Lode League winner Sonora (8-2-2). The Lancers are seeded
lower than VOL third-place finisher Weston Ranch (18-4-3), which plays El Dorado (7-13-2) from Placerville. Livingston (16-3-1) and Liberty Ranch (15-1-5) are the top two seeds.
VOL runner-up Sierra (15-3-2) was placed in Division III, where East Union claimed its title two years ago. The No. 5 Timberwolves begin with El Capitan (8-4-3) of Merced. Top-seeded Patterson (17-0-1) gets a first-round bye and is the overall second-highest rated team in the Section by MaxPreps.
The Section finals take place on Feb. 22 or 23 for Divisions II-IV. The Division VI championship is set for Feb. 19.