Lathrop High sophomore Isabella Paniagua was among the Spartans to earn All-Western Athletic Conference honors for the winter season, but she achieved it in two sports.
And she still managed to earn the school's Scholar-Athlete Award for maintaining a GPA of 4.0 or better.
She was just one of six Lathrop athletes overall to make an All-WAC first team. Joining her on the all-league first-team for girls soccer was fellow Spartans defender Alessandra Giordano. Paniagua was also picked for the all-defensive team in basketball.
The boys basketball team had a pair of all-league selections in Eddie Cotton and guard Daniel Whaley. Sophomore guard Kierstin Constantino made the first team for girls basketball, while Hector Alvarez did it for boys soccer.
Boys basketball
The 6-foot-6 Cotton and Whaley helped lead the Spartans (11-3, 19-8 overall) into title contention, though the Spartans came up short of their first league championship.
Mountain House (13-1, 22-8) escaped Lathrop with a 79-77 late-season win that vaulted the Mustangs to their second straight outright crown. Versatile MH guard Nikko Rodriguez (16.2 points) was named WAC MVP, while Nolan Dixon got Coach of the Year.
Cotton averaged 15.3 points and 9.3 rebounds in his second varsity season, while Whaley contributed 12.9. Junior guard C.J. Ward earned a spot on the second team, while Walton Whaley and Taurus Kohn earned honorable mention.
Girls basketball
The rebuilding Spartans (9-5, 14-15) were unable to successfully defend their share of the WAC title but did secure another postseason bid thanks to a three-game winning streak at the end of league play.
One of those wins came against WAC champ Los Banos (11-3, 16-13). Constantino played a big part in the young Spartans' late-season surge, as the second-year sophomore took over a lead role. She ended the season averaging 15.2 points per game and fired 29 in a key win over Beyer, making a program-record nine 3s.
Lathrop senior forward Jasmine Denning was selected to the all-conference second team. Los Banos' Anissa Sanchez is Coach of the Year, while Tigers sophomore guard Anissa Sanchez (12.2 points, 11.5 rebounds) was voted MVP.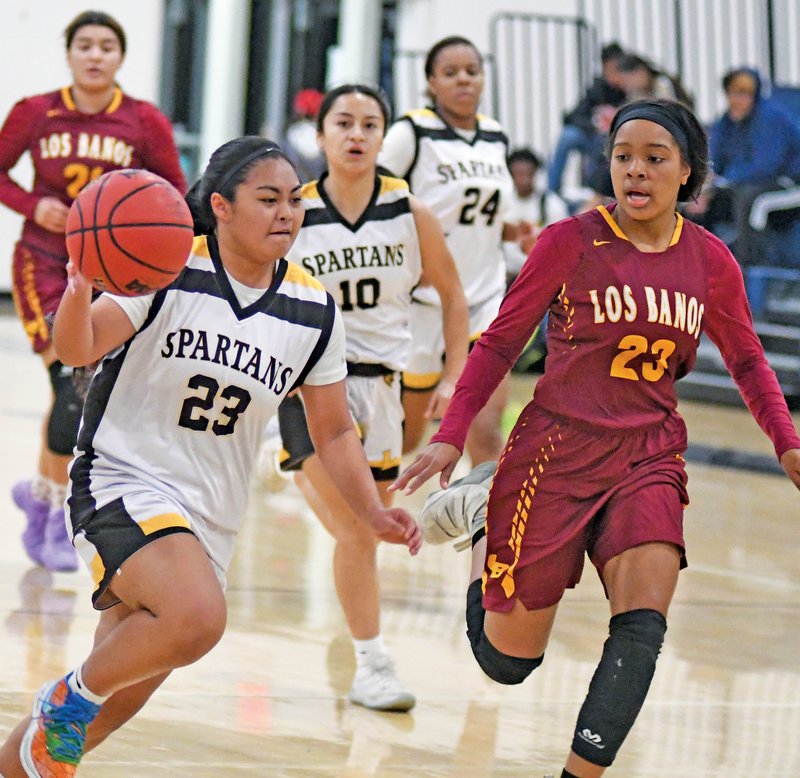 Boys soccer
Lathrop (3-9-1, 5-14-2) has two all-leaguers total with Alvarez getting a first-team nod and Ricardo Chavez making the second team.
Jimmy Perkins of first-place Pacheco (12-2, 21-4-2) and Diego Gutierrez of runner-up Johansen (11-1-2, 17-3-2) split the MVP award. Perkins, a freshman, registered 15 goals and 12 points for the Panthers, while Gutierrez was the Sac-Joaquin Section's leading scorer with 43 goals and 11 assists for 97 points.
Girls soccer
Paniagua was elevated to the All-WAC first team after making the second team as a freshman. She and the veteran Giordano, a four-year starter, anchored the back line for Lathrop (5-6-4, 6-16-3).
Second-team honorees included Spartans forward Aryana Jones and midfielder Jayna Rodriguez. Jones was the team's leading scorer with 11 goals and three assists.
Coach of the Year Danny Barragan and Co-MVP Jackie Ruiz earned top honors after spearheading Ceres (12-0-1, 17-1-1) to the WAC title. Beyer's Kayla Duenas is the other Co-MVP.
ALL-WAC TEAMS
Boys basketball
MVP — Nikko Rodriguez, Mountain House, Jr.
Coach of the Year — Nolan Dixon, Mountain House
First team — Eddie Cotton, Lathrop, Jr.; Tavio Meeks, Mountain House, Sr.; De Mari Tate, Los Banos, Jr.; Jonny Lee, Beyer, Jr.; Derick O'Neal, Beyer, Jr.; Daniel Whaley, Lathrop, Jr.
Second team — Jalen Zeno, Mountain House, Sr.; Elijah Stine, Beyer, So.; John Romero, Johansen, Sr.; Samar Singh, Ceres, Jr.; C.J. Ward, Lathrop, Jr.
Honorable mention — Beyer: Demarius Brown-Marks, Andrew Mouldin. Ceres: Verlis Smith, Malakhi Shimon. Davis: Ivan Romero-Ramirez, Trevor Zanella. Johansen: Vincent Quinones, Hayden Smith. Lathrop: Walton Whaley, Taurus Kohn. Los Banos: Will Hoyle, Cameron Lockette. Mountain House: David Gomez, Jordan Lawrence. Pacheco: Tangata Tuitupou, James Wright.
Girls basketball
MVP — Anissa Sanchez, Los Banos, So.
Coach of the Year — Lorinda Sanchez, Los Banos
First team — Kierstin Constantino, Lathrop, So.; Aminah Manning, Johansen, Sr.; Lyric Moore, Mountain House, Sr.; Sienna Hampton, Los Banos, Sr.; Celeste Leon, Ceres, So.; Samariah James, Beyer, Sr.
Second team — Adryanna Ege, Grace Davis, So.; Jasmine Denning, Lathrop. Sr.; Natalia Moore-Reygoza, Mountain House, Sr.; Lauren Green, Pacheco, Jr.; Katie Aragona, Los Banos, So..
All-defensive team — Michelle Lopez, Pacheco, Jr.; Lysaida Munoz, Ceres, Jr.; Maya Gorman, Mountain House, Jr.; Veronica Gines, Beyer, Sr.; Isa Paniagua, Lathrop, So.; Jodene Roach, Johansen, Sr.
Boys soccer
Co-MVPs — Diego Gutierrez, Johansen; Jimmy Perkins, Pacheco
Coach of the Year — Mike Perkins, Pacheco
First team — Pacheco: David Aguilar, Osiel Garcia, Jake Perkins, Mario Fregoso. Johansen: Christian Ramirez, Emanuel Vasquez, Angel Buendia. Ceres: Hassiel Ruiz, Antonio Medina, Victor Hurtado. Los Banos: Luis Mendoza, Elio Felix-Iboa, Edgar Del Rio. Beyer: Joey Almanza. Lathrop: Hector Alvarez. Davis: Diego Ramos.
Second team — Pacheco: Eli De La Torre, Danny Govea. Johansen: Carlos Bemajo, Eduardo Romo. Ceres: Matthew Sanchez, Hugo Mercado. Los Banos: David Arredondo, Emmanuel Aguero. Beyer: Albert Barajas, Moises Kleiman. Lathrop: Ricardo Chavez. Davis: Daniel Lopez. Mountain House: Montgomery Carey.
Girls soccer
Co-MVPs — Jackie Ruiz, Ceres; Kayla Duenas, Beyer.
Coach of the Year — Danny Barragan, Ceres.
First team — Ceres: Aalyah Ruiz, Daisy Duran, Sirian Godinio. Beyer: Caroline Duenas, Kelsey Birdsong, Ashlee Leonetti, Alyssa Gibson. Mountain House: Yohanna Gizaw, Carissa Teruya. Johansen: Celia Guererro, Marissa Hernandez. Lathrop: Isabel Paniagua, Alessandra Giordano. Davis: Jordan Torres. Los Banos: Jessica Garcia, Jackie Bangle.
Second team — Ceres: Miranda Larranga, Kalyani Hermosillo, Kristina Corbin. Beyer: Kylee Duenas, Isabella Rodriguez, Macie Hall. Mountain House: Sofia Jimenez, Reina Ramos, Brook Gale. Lathrop: Aryana Jones, Jayna Rodriguez. Davis: Stephanie Ramirez.