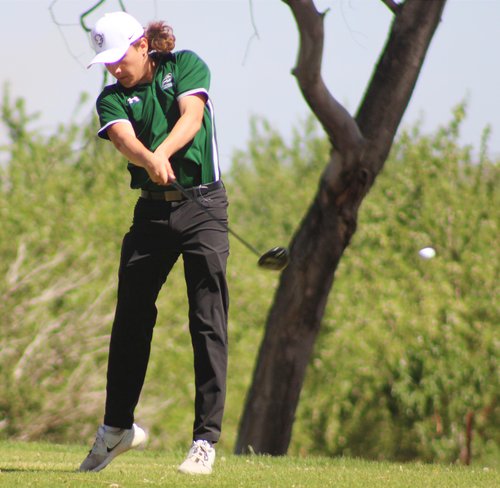 Cooper Rossi led Manteca Unified golfers with a fifth-place score of 86 in the third Valley Oak League Tournament of the season Monday at Track Golf & Country Club.
Rossi helped East Union card the third best score in the team standings. The Lancers posted a 472 behind Oakdale's 442 and host Kimball's 451. Manteca (527), Sierra (546) and Central Catholic (552) rounded out the field. Weston Ranch was a player short of a legal team score.
Oakdale's Nolan Harris repeated as low medalist, netting an even 72. Fellow Mustang Cooper Pitney was runner-up with a 79. Kimball's G.K. Dillon and Taj Dhillon took third and fourth, respectively, with 81 and 84 scores.
Zane Salgado added an 89 for East Union. Jayden Lopez (94), Tony Agueda (97) and Nolan Mix (106) were other contributors for the Lancers.
Manteca was paced by Zenon Garay's 90. Connor DePrater chipped in a 97. Tyler Watkins (106), Xavier Hernandez (113) and C.J. King (121) capped scoring for the Buffaloes.
Konnor Spears turned in a 95 for Sierra, which also had James Musquiz (99), Aiden Hillard (108), Carson Murray (120) and Peyton Robertson (124).
Representing Weston Ranch were John Delacruz (98), Jordan Fisher (131), Miguel Garcia (130) and Diego Rodriguez (136).
VOL Tournament No. 4 takes place next Monday, April 11 at Manteca Park Golf Course.
BOYS TENNIS
Oakdale 7, Manteca 2
The Buffaloes (5-2) dropped to third place in the VOL but put forth a solid effort against visiting Oakdale.
Their top two players remain undefeated, as No. 1 Jonas Mueller dispatched Caleb Poling 6-4, 6-2, while No. 2 Yok Chai Ma defeated Jack Healy, 6-1, 6-1. Emiliano Hurtado was competitive No. 3 singles, falling short against Ryan Krause, 4-6, 4-6. No. 4 Ivan Barajas lost to Alex Tangle, 3-6, 3-6.
Manteca won just eight games in the rest of the five matches.
BOYS VOLLEYBALL
Ripon 3, Central Valley 2
The Indians (12-7) came out on top of a back-and-forth non-league thriller at home, 23-25, 25-21, 25-19, 20-25, 15-8.
Hunter Adams nearly notched a triple-double with 13 kills, eight aces and 15 digs.
Setter Garrett Bright distributed 26 assists to go with five digs and three kills. Jalen Wilson and Jayson Ponce contributed seven kills apiece. Wilson and Adams were also key as blockers at the net.
Lathrop 3, Mountain House 0
The Spartans took care of their chief Western Athletic Conference rival on the road, 25-9, 25-16, 25-20.
They're now one win away from starting 20-0 this season. They are also 9-0 in the WAC.
Christian Green was a menace from the service line, as he totaled 10 aces to go with eight kills and five digs. Arman John netted seven kills, nine digs and two aces. Jerico Santillan had eight kills and five assists. Diego Sanchez collected 11 digs.
SOFTBALL
Manteca 12, Fairfield 10
Down 3-1, Manteca (10-3) mashed its way to 10 runs in the bottom of the fourth inning and held on for the non-league victory.
Madisyn Bridewell helped power the offensive explosion with a double, and homer and three RBIs in a 3-for-4 effort. Nayellys Torres also drilled a double and a homer, finishing 2 for 4 with two runs. Rayana Ladd homered for a second straight game and drove in three runs.
Elon James (two runs, two RBIs) and Mohrgen Kissee (run) were both 2 for 4. Grace Rosas pitched four innings for the win.
BASEBALL
Manteca 11, Central Valley 1 (6)
The visiting Buffaloes (8-7) rallied for six runs in the sixth inning, and Alex Murrietta kept Central Valley (7-8) shackled in the bottom half to cap off a solid outing.
He pitched all six innings, finishing with eight strikeouts while giving up three hits and four walks. Offensively, Murrietta went 2 for 4 with a double, two runs and three RBIs. Zach Todd doubled twice, finishing 2 for 3 with a run and an RBI. Landon Chamberlain went 3 for 3 with a run. Caron Smith went 2 for 2 with a run and an RBI.
Emiliano contributed a hit, two runs, an RBI and three walks in his four plate appearances. Freshman Eddie Anthony drove in a pair of runs.
JV volleyball
Ripon 2, Central Valley 0
It was all Ripon (9-1), which swept 25-7, 25-15.
Jack Schoolland spearheaded the Indians with four kills and our aces. Anthony Gomez added three aces, three digs and six assists. Marquell Marshall served five aces.
Mountain House 2, Lathrop 0
After beating the Mustangs at home last week, Lathrop (9-1 WAC, 11-2 overall) was swept in the rematch, 9-25, 13-25.
Caiden Wisneiski tagged two kills for the Spartans. Brandon Sanchez collected three digs, and Charles Reyes handed out four assists.