Anytime Deshon Thomas is feeling down, he thinks of Smiley.
The Sierra senior will never feel alone as he carries the memory of his best friend to Arizona where Thomas will attend college and resume a budding baseball career.
On May 15, 2017, Austin "Smiley" Peterson and Thomas, both freshmen at the time, were on their way to getting ICEEs when tragedy struck on a railroad trestle across the San Joaquin River. Both were riding bikes, with Thomas trailing the 15-year-old Smiley as a train barreled toward the tandem and fatally hit Peterson. 
"I thought I was going to get hit, too," Thomas said. "It was a horrible moment and it happened 6 feet away. That tragic event really affected me. It's my freshman year in high school, and losing my best friend at that age really tore me down. I didn't want to do anything."
Now, everything he does is with Smiley in mind.
"I totally use him as my prime motivation to go further in life," Thomas said, later adding, "When I want to quit I don't and it's because of him. I push as hard as I can. I want to be successful for him."
Thomas jumped at the opportunity to wear Peterson's jersey number for his senior season with Sierra's baseball team, which was coming off a highly-successful 2019 campaign that included a Valley Oak League championship. 
"His freshman year he was No. 1," Thomas said. "This was the first year (the varsity team) got a No. 1 so that's the number I picked. His main numbers were 1, 7 and 4, and if I couldn't get No. 1 I'd be 7 or 4."
Thomas was No. 9 during his breakout junior year since 1 was not available and the others were already claimed by returning seniors. The corner outfielder earned a spot on the All-VOL second team, hitting .344 while making every play that came his way defensively. 
He was a top contributor on a team that went 12-0 in league, 21-4-1 overall and took a 2-1 season-ending loss to eventual Sac-Joaquin Section Division III champion Ponderosa in the second round of the playoffs. 
With Thomas returning along with shortstop Jesse Ortiz-Martinez and center fielder Matt Dunham, the Timberwolves were not going to sneak up on anyone this year. Ortiz-Martinez is the reigning MVP of the league, while Dunham earned Defensive Player of the Year. 
"We felt like we had a huge target on our back and knew that every team was out to get us," Thomas said. "We had the mentality that teams were going to pitch their best against us, so we couldn't take a pitch off. Our expectation was going to section and finish what we started last year."
Thomas also aimed to get league MVP.
"I was trying to get first team all-league last year but missed it by one vote," Thomas said. "I didn't mourn over it, it was just more fuel."
He started strong in 2020, flashing speed and gap power from the top of the lineup while providing his always-dependable glove in the outfield. Sierra was 5-3 and had won three in a row before the season was shut down by the COVID-19 pandemic.
Like any other senior athlete going through it, Thomas was heartbroken to have his final high school season end this way. Thing is, Thomas is not like most high school seniors. 
"Honestly, I realized there's much worse going on," Thomas said, "People are losing family members or their own lives. Hands down, I would rather have my season taken away than to see another innocent person die from the pandemic. I understand now that it had to end for a good reason. It sucks I couldn't show out and show what I can do, but this is bigger than baseball to me."
The good news for Thomas is that baseball will still be there on the other side of this.
In January, he committed to play for Arizona Christian University on a partial scholarship. Thomas began to garner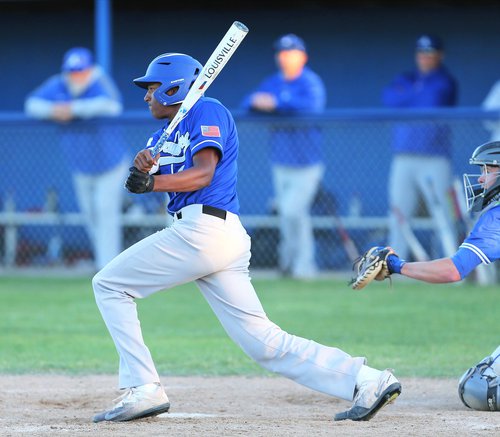 attention from NCAA and NAIA coaches last summer when competing in national showcase tournaments with Team MaxBat. He had four offers, including one from Penn State. There were other NCAA Division I programs that showed interest and invited him to camps at their schools.
"Every high school athlete has that dream of going D1," Thomas said. "I did as much research as I could and talked to coaches as I traveled around the country at these showcase tournaments, and they all told me that D1 is just money and clout — that's really all it is.
"I got that in my mind and don't want my parents to spend so much money on a school when I can learn the same things somewhere else. I figure that if I'm good enough, I can go farther."
Arizona Christian broke program records in Joe McDonald's debut season as head coach in 2019, making it to the NAIA National Tournament for just the second time. The Firestorm ended its shortened 2020 with an 18-9 record and 6-6 in the Golden State Athletic Conference. The 10th-year program has had seven players selected in the amateur baseball draft. 
Thomas felt welcomed by the coaching staff and was drawn by the location in Glendale, calling it "a great spot for baseball" with its proximity to spring training facilities. 
He's looking into studying business management with a possible career in sports management. He's also open to majoring in criminal justice or becoming a firefighter like his father. Mom is a nurse, and Thomas admires his parents' work ethic.
The dream job, of course, is to play ball professionally.
"That's something I don't say a whole lot to people, I'm just not that cocky, I guess," Thomas said. "I know I have to put in work for it. If it happens it happens. Playing a sport you love for money sounds amazing, but I know the probability of that happening is not huge so I'm going to have a back-up plan."
No matter how long his playing career last, Thomas is playing for No. 1 — Smiley.
"I don't think of the sad times anymore, I think about the good times," Thomas said. "I think about our talks about what we want to do with our lives, or playing basketball, football and baseball. I know he'd want to me to keep going."