Jeontay Berry and Anthony Sausedo skipped their graduation ceremonies on Friday, but they're now bound for the final round of the 102nd California Interscholastic Federation State Championships.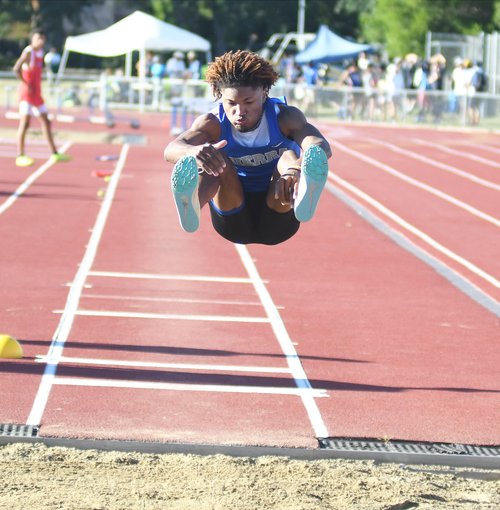 Weston Ranch junior Galadriel Mellion is also returning to Buchanan High's Veterans Memorial Stadium in Clovis today. They each have a chance to garner a top-six medal.
Both Berry and Sausedo narrowly came up short of personal records set a week ago in the Sac-Joaquin Section Masters Championships, but they did more than enough to advance.
The top 12 finishers by mark in field events move on, and Sierra's Berry turned in the 10th best measurement in the long jump during the preliminaries. He hit his best jump of 22 feet, 8 ¾ inches on the first of three attempts — an inch shy off his PR. J.C. Stevenson of Great Oak (Temecula) earned the top seed for the finals with a 24-9 ¼ mark.
Sausedo, the valedictorian at Ripon High, took second in his heat and clocked the sixth overall best time to advance in the 300-meter hurdles. Heat winners and the next six best times in most track events qualify for the finals. Sausedo finished in 38.72 seconds after clocking a 38.26 last week. Isaac Lewis of Wilson (Long Beach) had the best time at 37.57.
An SJS double winner, Mellion made the finals in both throwing events. She first did it in the discus throw, needing a clutch toss to advance. On the outside looking in through two attempts, she vaulted to the No. 6 spot with a mark of 133-6. She later posted the fifth best throw in the shot put with a 40-7 ¼.
Also competing Friday were Manteca senior Zion Allen and East Union junior Taylor Snaer.
BYU-bound Allen took 22nd out of 29 in the 100-meter dash (10.84) and 16th in the 200 (21.78). He's the reigning SJS champion in both events. Snaer finished 13th overall in the 400 (56.90) and was fourth in the fastest heat of the event.
Field-event finals begin at 4:30 tonight, and track events start at 6.